---
4101 Washington Street
Wilmington, DE 19802
302-762-1132
P.O. Box 442
10 South Walnut Street
Milford, DE 19963
302-422-2043
---

Ensembles
Make music together
OVERVIEW
Playing and singing with other musicians is one of the great thrills and joys of music-making! The Music School of Delaware offers instrumental and vocal ensembles from chamber groups to large ensembles for children, teens and adults at every level. Directors focus on developing each ensemble within an age-appropriate educational framework, guiding participants to learn about blend, balance, stylistic accuracy and expressive content, while also providing performance opportunities throughout the year.
BROWSE ENSEMBLES
Ensembles Overview
Wilmington Branch
•
Chamber Music & Small Ensembles
•
Orchestral Ensembles
•
Choral Ensembles
Milford Branch
•
Small Ensembles
•
Dover Satellite Location
Policies & Information
Registration Form
---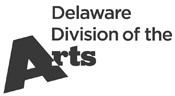 This organization is supported, in part, by a grant from the Delaware Division of the Arts, a state agency, in partnership with the National Endowment for the Arts. The Division promotes Delaware arts events on www.DelawareScene.com
.

The Music School of Delaware is proud to be an active partner in the IN Wilmington Arts Campaign.