---
4101 Washington Street
Wilmington, DE 19802
302-762-1132
P.O. Box 442
10 South Walnut Street
Milford, DE 19963
302-422-2043
---

Suzuki Academy
Learn the language of music
OVERVIEW
Based on the educational philosophy of Shinichi Suzuki, the Music School's regionally recognized Suzuki Academy applies the mother tongue approach to music study, so that students learn to play violin, viola or cello (and now piano, in Wilmington) as they would learn to speak language—by listening and imitating—with the support of parents and teacher. Parents attend lessons with children and assist with home study. In addition to private lessons, mandatory group classes meet regularly, reinforcing techniques and increasing students' motivation and enjoyment, while periodic recitals and group concerts develop confidence and teach important performance skills. All Music School
Suzuki faculty
are highly trained in the Suzuki Method and are registered through the Suzuki Association of the Americas.
Suzuki instruction is appropriate for children as young as age 2½, depending on the child's development and the instrument. Young students are interviewed prior to receiving an approval to begin formal Suzuki studies and may be encouraged to enroll in Pre-Suzuki Music & Movement (Wilmington Branch only) to prepare for future Suzuki study.
BROWSE SUZUKI ACADEMY
Suzuki Academy Overview
•
Suzuki Method
•
Program Requirements
Wilmington Branch
•
Private Study
•
Group Classes
•
String Orchestras & Small Ensembles
•
Parent & Other Classes
•
Tuition
•
Pike Creek Satellite Location
Milford Branch
•
Private Study
•
Group Classes
•
Parent Classes
•
Tuition
Suzuki Academy Calendar
Suzuki Academy Blog
Policies & Information
Register Online
Registration Form
Suzuki Academy instruction is available in Wilmington, Pike Creek and Milford. Pike Creek students attend group classes at the Wilmington Branch. Milford students attend biweekly group classes at the Milford Branch. The annual Harvest Concert, Suzuki Day and Suzuki Graduation take place in Wilmington and are included in the Suzuki Academy tuition. All Suzuki students are required to participate in these events, as well as the mandatory dress rehearsals for the Harvest and Graduation Concerts. Suzuki Day takes place in lieu of regular private lessons, group classes and Suzuki orchestras for the week prior to the event.
Honors and Seminar
There are two divisions for Suzuki Academy students who have reached the Advanced Level and have passed a minimum of Graduation Level 7. Students must be at least 11 years old by the beginning of the academic year. Involvement in Division 1 is by the student's choice, placement in Division 2 is by Department Head and Private Teacher recommendation. Recommendations will be based on the students' performance and participation history. Please note that the tuition for the Advanced Seminar is typically less than the standard Suzuki Academy Tuition, as there are fewer activities associated with the program. Tuition for the Camerata Honors Program is typically more expensive than the standard Suzuki Academy Tuition, as it is more rigorous and includes more activities than the standard Suzuki Academy package.
Suzuki Academy Blog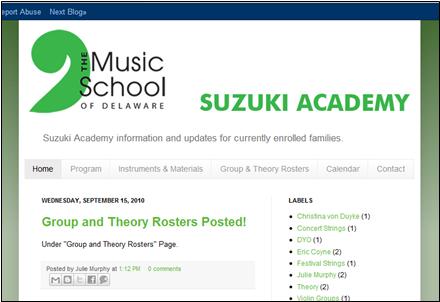 Currently enrolled families now have a simple way to keep in touch! Check the Suzuki Academy blog regularly for up-to-date information about group rosters, schedules, recitals and events, and more.
---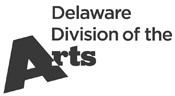 This organization is supported, in part, by a grant from the Delaware Division of the Arts, a state agency, in partnership with the National Endowment for the Arts. The Division promotes Delaware arts events on www.DelawareScene.com
.

The Music School of Delaware is proud to be an active partner in the IN Wilmington Arts Campaign.